Focus on your business while we manage your IT infrastructure. We work proactively to catch issues before they become a problem and minimize downtime. Our managed service contracts help bring peace of mind so you can concentrate on your business at hand. All for a low monthly rate.
Cloud services include online data storage and backup solutions, Web-based e-mail services, hosted office suites and document collaboration services, database processing, managed technical support services, VoIP, and more.
Enterprise-level computer and network expertise at an affordable rate. We can help you realize the productivity gains and return on investment (ROI) that you have been expecting from your computer systems all along.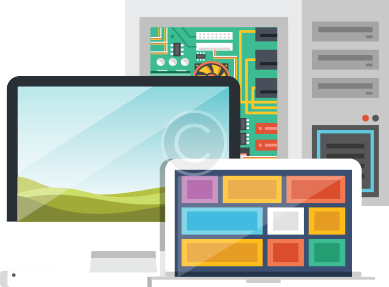 Can't afford full-time web designer? Our web design & maintenance services will take care of all your informational and e-commerce needs. High-end web design, monthly maintenance, and SEO are our specialties. Best of all it is 100% affordable. Contact us today so we can make the web work for you.
As every new breed of a virus is conceived, created, and uploaded to the internet, another small change is made to software to combat the new threat. Contact us today to make sure you are up to date on the latest anti-virus and anti-spyware releases. Keep yourself and your valuables protected and secure.
Everyone knows how important their data is to them. CALLCOLLIN, Inc. combines planning, prevention, and protection no matter what disaster may come your way. Don't be caught in a situation where your data is on the line. Anything can happen!